Music rings out again in New Orleans
When trombonist Craig Klein came back to his house a few days after Hurricane Katrina tore though New Orleans on August 29, 2005, he found – like thousands of others - that his house was in ruins.
"The water was ten feet high, almost reaching the second floor," he says. "Everything was in turmoil. All I could do was throw all the contents into the street, tear down the inside walls, clear out the foot of sludge and wait for it all to dry."
While he waited he got in touch with friends in the music community who were in the same plight and they decided to help each other get their homes and their lives back into some sort of order.
"I knew I had to be here because this is the best place to be a musician but I didn't know what was going to happen to the music scene because so many had left and not come back Some were dead.
Read more in The Independent. http://www.independent.co.uk/travel/americas/aint-no-city-like-new-orleans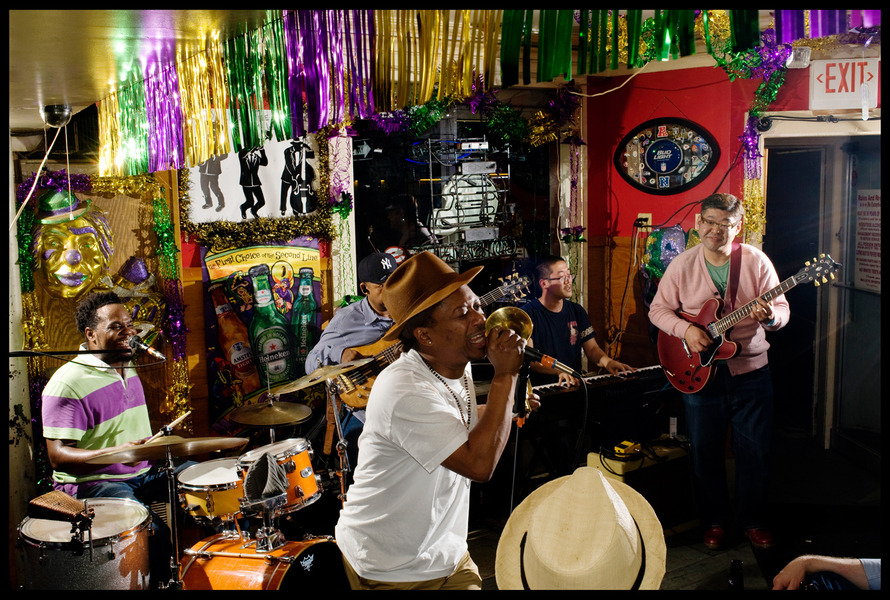 Kermit Ruffin in Bullits bar
Bonerama at full tilt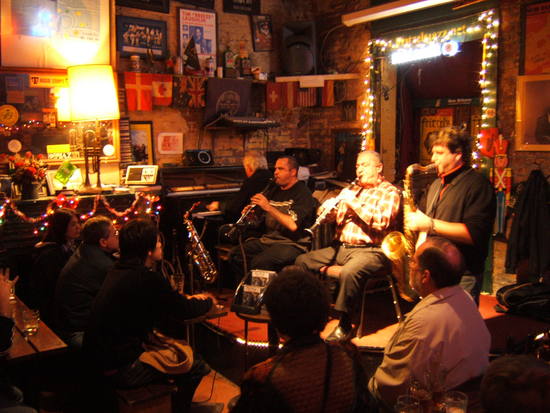 Authentic; Fritzels in Bourbon Street
Ben Jaffe in Preservation Hall
The Scattered; a saga of suffering and survival
Love lost; love regained. Freedom; oppression. The casual cruelty of great nations; the plight of the weak and dispossessed. And against all hope—survival and a new life.
The Scattered dramatizes the incredible life of one man and the people he loved, caught up in the saga that befell the Acadians, a simple, peaceable people, who were expelled by the British from their homes in Nova Scotia, Canada, in 1755. The great powers—France and Britain—were caught up in a titanic battle for power in North America. The small enclave of French-speaking Acadians were in the way and were brushed aside.
To find out more, please go to The Scattered at Amazon
The Scattered - The story of the Acadian expulsion
Sailing ship in the the river Mersey - mid 18th Century
Acadians on Liverpool dockside - 1756
Beauty from tragedy
One of the most moving - and beautiful - exhibitions is Armenia: Masterpieces from an Enduring Culture at the Bodlean Library in Oxford as you can see in the Gulf News; http://gulfnews.com/culture/arts/armenia-s-history-and-culture-at-the-bodleian-1.1656929
Tears for Maya Zbib, Rolex protegé
In the wood-panelled formality of the Trustees Room of the New York Public Library an intense, rather nervous, woman is holding an audience in rapt silence.
In gentle cadences Lebanese playwright Maya Zbib is performing her one-woman show, The Music Box. There is a lightness to her voice which contrasts with the shelves of portentous books and elaborate tapestries that stuff the room but it is a lightness that is deceptive, because her story tells of life in Beirut - a world of violence to women, disappointed marriages, mislaid dreams and untimely death. It is so affecting that when the short performance ends there is a silence, then heartfelt applause and even tears. Few shed more than the charismatic theatre director Peter Sellars who is sitting in the front row.
"I was crying my eyes out," he said. "I knew the text but this is the first time I have seen Maya perform. So much in the Middle East comes from a sense of desperation so it is beautiful to see something of intelligence, of balance, of quiet and understanding that comes from an inner clarity."
Read more in The National
Maya's charismatic mentor, Peter Sellars
A performance of The Music Box by Maya Zbib
Who needs skyscrapers?
London is on the rise.
Almost 250 buildings of 20 or more stories are being built or planned for the city and its suburbs. in the next few years, about 150 of which would be residential blocks. Recently, a fresh tranche of planned developments were announced for Canary Wharf and in to the east, including a several skyscrapers - one 58 stories.
And those numbers have grown as recently as the end of July, when a new group of high rises, including one of 58 stories, was announced for London's East End.
The high rises are hailed by some as the only solution to the city's chronic housing shortage, and are the result of overseas investment that has flowed into the capital since the global downturn of 2008, most of it attached to high-rise projects.
But others argue that the buildings will clog London's skyline and that the city's post-World War II practice of grouping towers on streetless sites, in a kind of residential version of an industrial park, produces a sterile environment -- and actually does not provide as many housing units as traditional terraced housing.
Read more in the New York Times
High rise plan approved for the Mount Pleasant area
... and how it could look
Down with blockbusters
Museum director James Bradburne is not slow in coming forward when he has something say. Here the director Milan's Pinoteca de Brera says who he thinks about the demorialising effect of the blockbuster. And has one or two other opinions to share as well. Frustratingly the FT keeps its works to itself (very sensible of them) so the story appear in the blog.
https://www.ft.com/content/dc3e411c-f20b-11e7-bb7d-c3edfe974e9f
Only happy people buy art
Most years Brazilian gallerist Juliana Cintra would have promoted her artists and their work at the key international art fairs such as Frieze New York and Arco Madrid.
Not this year. Mrs Cintra, co-owner of the Silvia Cintra + Box Gallery in Rio de Janeiro, says: "People are not in the mood to buy. We have a political crisis, the president may well be impeached, the economy is weak and the dollar is too strong. Then there is the situation in Paris and Brussels with terrorism and the confusion in Europe."
Add to this the rising cost of the Olympic Games opening in Rio this August - now at 39.1 billion reals (£7.6 billion) - throw in the chaos caused by the building of new infrastructure, and it is understandable why she laments: "We have had to take a step back and go only to Art Brussels and Basel Miami. Art is something that people buy when they are happy. It isn't something that people need."
Read more in the FT.
Putting the fizz into Futurism
Terrific show at the Estorick in north London about the drink that had an art movement doing its marketing. Sort of. This appeared in the brilliant New European which relies more on the physical world ie news print than than the digital. All the better for it.
Anyway, mine's a Campari Soda.
When F. T. Marinetti launched the Futurist movement in Italy the firebrand poet and philosopher proclaimed "There is no beauty that does not consist of struggle. We intend to destroy museums, libraries, academies... We intend to exalt aggressive action, a feverish insomnia, the racer's stride, the mortal leap, the punch and the slap."
Whether he toasted his 1909 manifesto with a Campari and soda history does not say, but it would have been entirely fitting because many of his followers found time amidst all the feverish struggle to design posters advertising that most Italian of drinks.
There was a logic to it. The Futurists embraced all that was industrial and dynamic but, above all, new and innovative and were attracted to advertising as something modern, something that took bourgeois art off the walls and into the streets. This radical thinking probably meant little to the drink company's owner Davide Campari but when he was casting around for artists to promote his product he lighted on several angry young Futurists who were happy to forego the 'slap and the punch' and instead express themselves with wit, style and glamour.
Perhaps it was inevitable. Campari was created in 1860 in Milan by Davide's father, the city was the hotbed of Futurist activity and no doubt they met at the Camparino bar, the favourite watering hole for anyone who was anyone.
"The Art of Campari" at the Estorick Collection of Modern Italian Art, London (until September 16), shows how the work of these revolutionaries brought the thoroughly capitalist concept of brand image to the aperitif with such panache that the drink, with its distinctive small conical bottle (note: it is two words not one as often spelt) became one of the world's unmistakable brands.
Many might match it for iconic status - the Michelin man, a bottle of Tabasco, Rolls Royce or Coca Cola - but only Campari is associated with an art movement.
How better to mark the twentieth anniversary of the opening of the Estorick, the UK's only gallery devoted to modern Italian art, with work by some of the most celebrated poster designers of the day? Names such as Leonetto Cappiello, Marcello Dudovich, Adolf Hohenstein, and Marcello Nizzoli, may not mean much out of Italy but their work absolutely reflects a time and a place - Milan was already one of the world's most fashionable cities - and celebrates the drink that went with it.
The early posters reflect an enviable life style with examples from the Belle Époque of the early 20th century, the Art Nouveau and Cubist campaigns of the 1920s and on to the elegant designs of the 1960s.
Adolf Hohenstein, whose technique owes something to photographic realism and Art Nouveau, depicts two smart gents at a café table looking on longingly as the soda is squirted into the ruby red aperitif. It has no title, just the name: Bitter Campari. No need to say any more.
In "Women and Officers" Marcello Dudovich enhances the brand image with a gathering of Milan high society. The pouring of the Cordial, a sweet version of the drink designed to appeal to the ladies, is almost hidden behind elegant frocks but the message is clear; this drink is for the refined, for those with good taste.
Post World War One the posters become more overtly advertorial, particularly those by Macello Nizzoli, artist, architect, chief designer for Olivetti typewriters and a designer of handbags. The ruby red of the Campari bottle, the blue of the soda syphon, the fizz of the soda, his series of posters are distinctly Cubist, simple, direct, but entirely evocative of a sophisticated night out in Milan in 1920s.
Ugo Mochi part time opera singer, but best known as the 'Poet of Shadows' for his paper silhouettes of animals, produced a series of enchanting cameos of cafe life - a maid serving drinks, intimate moments on board a ship, a waiter scampering to replenish glasses - they are deceptively simple evocations of a privileged world which one can't help thinking the more hard-line Futurists began by despising.
(The founder, F.T.Marinetti, published the Futurist's Cookbook with the 'lofty, noble and universally expedient aim of changing radically the eating habits of our race.' One of his targets was the banality of pasta. His thesis rather faltered when he was photographed tucking into a huge bowl of spaghetti).
It becomes more fun in the 1920s. Leonetto Cappiello depicted a cheery girl hanging from a lamp post. No bottle to be seen, just the words "Bitter Campari, Milano." A jester leaps out of a swirl of orange peel - the essential ingredient to complement the drink's bitter-sweet tang.
Nowhere does the commercial meet art more than in the posters of Fortunato Depero, who did more than anyone to establish Campari's corporate identity. Throughout the 1920s he produced a vast quantity of posters and newspaper advertisements including a series of highly stylised, graphical images, bold, witty and geometric, which were nonetheless quirky and surreal.
He was a key figure in the Futurist movement, a painter, a poet, a dance designer for Sergei Diaghilev's Ballets Russes. He also wrote Fascist fighting songs and designed a cover for the magazine supplement of Mussolini's newspaper.
He believed that 'the art of the future will be largely advertising... a spellbinding art boldly placed on walls and the facades of big buildings, in shop windows, in trains, alongside pavements and streets, everywhere; a living, multiplied art, not isolated and buried in museums – art free of all academic restraints – art that is cheerful - bold - exhilarating.'
Perhaps nothing epitomised that exhilaration more than the drawings he made which were used to inspire the classic conical Campari Soda bottle which was launched in 1932 with its ready to drink mix - just add ice and a slice of orange.
After World War Two, perhaps lifted by post conflict optimism, there was something of a return to the glamour and sophistication that characterised the posters of the 1920s. Many by Franz Marangolo epitomised the spirit of the Swinging Sixties with pastel shades, full of zest and humour. The women - always women - look like a Sophia Loren or an Audrey Hepburn. They are gamine and soignée, they have long mini-skirted legs and they perfectly sum up a mood of permanent Italian summer when all that was needed to make everything perfetto was the pétillant fizz that signalled the opening of another bottle.
His posters of the little bottle portrayed as a long legged model with a coquettish wink, looked at objectively are rather strange - a conical container as a mannequin? - but with a pinch of salt, or rather a sip of Campari, they appear delightfully stylish, conjuring up a Milanese catwalk or London's King's Road.
The image with its slogan: 'For your thirst, Campari Soda keeps up with the times' captures what one commentator described in 1960 as 'an aura of soft and enjoyable happiness.'
"From that single word (Campari), infinite sketches have sprung like from a firework," he wrote. "Before our eyes, there is an increasing parade of lively inventions and sparkling and funny claims, in an astute and cheerful game of allegories.
"An illustration of the bottle and glass is now enough to produce a particularly inviting lure... synonymous of exquisite and sociable gallantry, whether it is made up of a simple word and claim of merit and quality, or conveyed through a series of large, artistic billboards."
Nothing bettered those billboards. In a nod to more recent times the exhibition has one poster from 1990 by Ugo Nespolo, made to celebrate Italy hosting the World Cup. While his predecessors understood that less is more this is a confused jumble of conflicting images made from a jig saw of lacquered wood.
Inevitably, perhaps, the posters were replaced by TV commercials. One directed by Italy's legendary director Frederico Fellini showed a bearded man and younger women in a train carriage looking out of the window apparently hoping to see the perfect sight. He leers, she pouts. It ends with a vision of the Campari bottle framed by the Leaning Tower of Pisa and the Pantheon in Rome. Perfection at last, the commercial seems to say. But the imagery is confusing and a bit creepy. Above all it misses the simple message of Campari campaigns over the years which is all about fun, sophistication, verve.
As one of Marangolo's posters has it: 'É sempre giovane.'
'And always young.'
World War One at Imperial War Museum
"Digging, digging, digging, always bloody digging." That was the rueful refrain of Britain's First World War soldiers as they gouged out the trenches that stretched from Switzerland to the English Channel.
Nothing symbolizes the mayhem of the 1914-18 war more than those crude lines of defense so it is fitting that one of the most dramatic features of London's newly-redesigned Imperial War Museum is a re-creation of a trench. More than 52 feet of dark, claustrophobic, passageway, eight feet high, filled with the infernal racket of whizzing shells, the rat-a-tat of machine guns, the roar of planes. A British Mark V tank looms menacingly, a Sopwith Camel biplane 'flies' overhead.
The museum, in Lambeth, South London, opened this summer after a £40 million ($64 million) refit to coincide with the centenary of the war.
To read more go to Wall Street Journal
Signs of hope and despair in the trenches
Troops go over the top
The ingenious world of Siah Amanjani
A touch of glass
Why is that Croatia, a nation of four million people can reach the World Cup Final? How does New Zealand always win the rugby with when the country has barely enough people to make up a team?
Incongruous questions to be considering in the Sainsbury Centre for Visual Arts in Norwich, surrounded by the works of centuries, carvings, statues and paintings, while standing before screens of stained glass which shimmer and glow in the light of the gallery's vaulting space.
"It's about the way we value skills," says Director of Visual Arts Paul Greenhalgh. "It is very clear when you look at sport. For Croatia it is because it has a very, very, intense tradition to preserve and clearly it impacts positively on the culture and society in terms of national pride, shape and cohesion.
"But do we value the status of skill and the artist in the physical visual arts to the same extent? The hand to eye and physical coordination, is that genuinely something we should worry about losing?"
It is to Greenhalgh. For the exhibition "Brian Clarke: The Art of Light" (until 14 October 14) he has brought together 30 stained glass panels and screens and though Clarke is one of the world's finest workers in the medium he is relatively little known and that, claims Greenhalgh, is down to a 'ridiculous class structure' in which 'some arts are deemed high and some are not. Some are thinking, some not.'
The debate was polarised in the 19th century with the setting up of the Special Committee of the Government School of Design to define the arts. Some, it was decided, originated wholly in the mind - predominantly, painting, bronze and stone sculpture - while others came about through technical, mechanical ingenuity and were to do with skills.
"The arts were siloed out and separated in the 20th century because it was the age of specialism," says Greenhalgh, who has just completed a book, "Ceramics, Art and Civilisation," which makes a similar point about pottery: "When I worked at the Victoria and Albert (where he was the museum's Head of Research) the struggle was to get what we had taken seriously as art to be dealt with intellectually not just as something for the Antiques Road Show.
"Stained glass was inevitably positioned as a craft, with all the confused cultural and economic consequences of that class allocation. "
Unsurprisingly Clarke agrees: "You'd think since Duchamp and Modernism we would have grown out of that puerile absurdity in which painting is in pole position but we simply haven't. It is absurd to attribute categories of significance in an entirely arbitrary way to different medium.
"Stained glass has undoubtedly provided some of the greatest art in our civilisation from Pharaonic times, Mesopotamia, and Greece. It certainly exists in European Gothic architecture and the even in Modernism. Charles Rennie Mackintosh and many of the greatest artists have not just dallied but been intensely involved with stained glass. It helped them advance their radical views of the world - Mondrian, de Kooning, Max Ernst, Le Corbusier, Matisse - stained glass has been some of their greatest works."
Like them painting is inextricably bound up with his work.
"I couldn't make stained glass without the nourishment of painting," says the 65-year-old. "The two work in very harmonic tandem. I can't imagine how I would do anything without being able to draw. It's fundamental. I can't think without a pencil in my hand."
His need to paint is matched by his passion for architecture.
"I believe that the medium has the potential of having the same kind of uplifting impact on the urban fabric as it had on architect in the 15th century," he says. "The idea of bringing that kind of liquid, fluid, transparent colour into our daily experience. Once you've tasted it you really want another lick at that lolly."
He argues that painting, architecture, glass, all the arts, should be considered as a whole.
"When you're an artist there is an undeniable pleasure seeing your work on a pristine gallery wall but the much greater rush for me is when that wall becomes the room, the room becomes a building. The Germans call it gesamtkunstwerk, I wish there was an easier word for it, to describe art that embraces everything in the space, from paintings to ceramics, maybe even the sounds. To put it clumsily, the space is the work."
His early enthusiasm for architecture has been enhanced by years working with the likes of the late Zaha Hadid and Norman Foster, who designed the Centre. Clarke has worked with the architect on major projects, such as the wall of glass, 81 metres wide by 24 metres high depicting desert scenes, for his Al Faisaliah skyscraper in Riyadh and the apex of the Pyramid of Peace in Kazakhstan. He has brought art and architecture together in shopping malls and airports, churches, mosques and synagogues.
Born in Oldham, Lancashire, in 1953 his interest was piqued when he saw a stained glass window being installed in a local church and further inspired by a visit to York Minster with its monumental array of Mediaeval stained glass. He studied at Oldham School of Arts and Crafts and now, 50 or so years on, finds improved technology has made the medium flexible enough for him to express any idea that interests him.
"It's a real vehicle for real ideas and real artists," says Clarke, who will be taking the Sainsbury show to Russia, China and the Far East. "It's not a medium that is simply applied in one specific way to one specific type of building or one specific project."
The result is a range of styles and improbable themes which challenge the preconceptions of anyone who supposed modern glass work to be anything other than a pretty decoration.
In the "Seville" series, sun drenched oranges are so luscious against a deep blue that you could eat them - perhaps only to be expected since he has a home in the city. The tumbling shapes of "Flowers for Zaha", "Tune In, Turn On, Drop Out" with oak leaves in yellows and oranges, tipping into reds glow with their intensity.
To say the Deco-esque "Falling Water" with its clusters of flower heads and long elegant stems is pretty is not do the work a disservice, while "Daffodils" would have William Wordsworth reaching for his lexicon.
But while he talks about some of his work as 'abstracted Arcadian landscapes in celebration of an as yet undefined optimism' he also tackles subjects which might seem too banal to consider.
"Wall Street" is based on the Bloomberg stock market lists that flicker all day on television and made quite simply because he 'liked the way it looked,' while "Blue Computergram" with its red, pink and yellow squares and stars evokes some mysterious digital calculation.
Nor does he flinch from taking us into dark, desperate places with the Warhol-esqe atom bomb clouds in "Manhattan," the skulls in "Chill Out," lined up as if on the shelves of a catacomb and the Munchian screaming figures in 'Grief."
In the "Office for the Dead" series he turns the art on its head by not always using glass. Instead skulls are are picked out in scribbles of molten lead in a sort of macabre graffiti on sheets of forbidding matt black lead. When he does introduce a splash of glass it serves to accentuate the darkness.
"Don't Forget the Lamb," a moving tribute to his ailing mother includes the work which gives the series its title - an uncompromising expanse of lead, with a skeleton, an uneven patch of colour depicting fleur de lys and a note from his mother, like a post-it on a fridge door: "Don't forget the lamb."
Such diversity makes him hard to categorise, which is exactly what he and the gallery intended.
Just as the Sainsbury Centre opened in 1978 with 'none of the nonsense' as Greenhalgh puts it of dividing up painting and sculpture from artefacts from Africa or the east, the screens are mixed in with the collection. Lit up by the sun shining through the window which is the width and height of the entire building, the colours dance off a striding Giacometti or a sculpture of the Papuan hornbill and mingle with pieces from Mesopotamia, sculptures by Henry Moore and a Cycladic vase from 2,700 BC.
Nonetheless, as Greenhalgh laments: "It is odd in our times - and a little sad - that this exhibition is an unusual thing for a public art gallery to do. These are works that simultaneously well out of a grand tradition and stridently move into the contemporary world. They stretch our understanding of what it is art can do. Like Croatia they prove the importance of valuing skills. "
And even though they are his own works, Clarke still finds the purity of light and colour so intense that he finds himself having to pull back from them 'because I feel they are going to swallow me up.'
He says: "I swing between expressions of how joyful it is to be alive and the shit, the horror, the suffering of the brief summer of the dormouse that we call our lives.
"But I have discovered that if I grub away, if I push the oils away, peel the layers back, I find an absolutely new kind of beauty which I have not seen before and that makes me feel - he pauses, hoots with laughter - very horny."
New art gallery for Medellin
Colombian artist Jorge Julián Aristizábal was 16 when a group of artists and architects converted a small house in his home city of Medellín into a museum of modern art. That was 1978, and Mr. Julián, who is now 52, says "I grew up with the museum. Like many other artists of my generation, it accompanied me throughout my entire career. It held very important shows to promote young artists, and without the museum it would have taken me much longer to be where I am right now."
In 2009, the Museo de Arte Moderno moved to much larger quarters in a former steel mill, built in 1938, and a dramatically contemporary $12 million extension will open next year. In addition, there are plans for a culture center to house the city orchestra and ballet company.
"We are an expression of the transformation of the city," says María Mercedes González, 36, who has been museum director since 2012, "This could not have been achieved before, when the city was in such difficulties."
To find out more, go to Wall Street Journal
Exhibition at Medellin Museum of Modern Art
The old factory, now gallery
New extension will open in August
Taste of Royal Tabasco
Lunch time in Mother's Diner, downtown New Orleans. Plates are piled with po'boys, mighty sandwiches stuffed with fried shrimp, oysters or roast beef. Their gravy-drenched prodigality belies their origins as hand outs to starving workers during a street car strike in the Twenties.
Muffaletta anyone? It's like a plate sized flat loaf filled with marinated olive and slices of salami, emmental cheese, mortadella and provolone. Buy one and feed the whole family.
Maybe a bowl of gumbo, a broth of seafood or meat seasoned in file (acute) or how about a mound of debris, the shavings from the roast joint left floating in the gravy?
This is Louisiana where the food is born out of hard times - from the Spanish occupation and the wreckage of the Civil War and from outside cultures such as the Creole mix of French, Spanish and African American and the Cajuns who settled there when expelled by the British from their Nova Scotia homeland in 1755.
Today these are all dishes made exotic by their unfamiliarity to European palates and given extra gusto by another Louisiana classic sitting on Mother's tables – a good ole, red topped, green necked bottle of Tabasco.
Hard to imagine an eaterie in Louisiana not serving the state's home grown pepper sauce. Even the most sophisticated of the restaurants in food-loving New Orleans - legendary names such as Brennan's, Commander's Palace or Antoine's - have bottles at the ready.
Why stop there? Tabasco is sold in 160 countries, including the UK where it has been on sale since 1873, cheering up bland breakfasts and lacklustre lunches, bringing zest to oysters and putting the Bloody into Mary. It is found in London restaurants such as Hix's Oyster and Chophouse, Richard Corrigan's Bentley's and the Bibendum Oyster bar (of course) and even that stalwart of spice the Star of India.
Now it transpires that this most bravura of exports is a favourite of the British Royal Family, so much so that it has been granted a royal warrant by The Queen – making it the only independent US firm in the food category. Heinz, owners of Worcester and HP Sauce, also have the coveted imprimateur.
It's an incongruous thought, a bottle of Tabasco on the Buckingham Palace sideboard. How are they on Louisiana cuisine at the Palace?
Grits with the black ham and eggs, Ma'am?
Grits! It is hard to find a food more likely to disappoint Her Majesty than the tasteless sludge of ground corn. Even with the reviving tincture of Tabasco, this is alien culinary territory - almost as alien as the bayous of Louisiana, where skeletal trees are laden with eerie curtains of Spanish Moss, where egrets stalk and alligators nose through the green algae.
But deep in the bayous of this, the least American of states, is the headquarters of this, the most American of brands.
It was here, on Avery Island in 1865 that Edmund McIlhenny, a banker who had lost his fortune in the American Civil War planted his first peppers. The story goes that he was given a handful of seeds by a Confederate soldier who had fled to Mexico after the war. McIlhenny planted them and was delighted when half a dozen bushes sprang up. He experimented with mashing the peppers, adding vinegar and salt, to make a sauce which he bottled in old cologne bottles. He was better placed than most culinary adventurers. Avery Island is, in fact, the dome of one of the biggest salt mines in America.
The following year he produced 658 bottles. By 1889 production reached 41,472 bottles. Today 700,000 bottles rattle off the lines every day.
It still has the same ingredients of peppers, natural vinegar and a small amount of salt which are matured for up to three years in old white oak whisky barrels. Grand pere, as he is known by today's family, would still recognise the flavour.
John McIlhenny, the elder son, who took over in 1890, increased the pepper fields from five to 70 acres and stepped up production. But he was restless, joining President Theodore Roosevelt's Rough Riders to fight in the Spanish-American War of 1898 and helping to quell a revolt against US rule in the Philippines. His brother Ned spent years exploring the Arctic and his son, Walter, went to war in 1941. Using the combat code name Tabasco Mac, he fought at Guadalcanal against the Japanese where, according to an eyewitness, 'he leaned up against a coconut tree and started firing. He killed six of them, just like that.'
With all this adventuring it's a wonder that Tabasco flourished but in between hunting, shooting and looking for trouble the company's marketing accelerated – particularly under Walter, who used every gimmick available to him such as promotional songs on the new 45 rpm records, supplying US servicemen in Vietnam with a Tabasco recipe book. During the Iraqi conflict an advert showed a marine about to hurl a bottle of Tabasco as if it was a hand grenade with the slogan: 'Defending The World Against Bland Food' and last month the British army in Afghanistan were sent Tabasco to doing their bit to combat "menu fatigue and taste degradation".
Walter paid for gimmicks such as arranging product placement in the Bond film The Man with the Golden Gun and even having the spicy liquid shot into space with the Shuttle missions.
Britain was an early market. The first export arrived in 1873, though the grocers Crosse and Blackwell turned down the chance to handle its sales because there was such a glut of sauces that would they thought it would be 'unprofitable'. Today more than two million bottles are sold a year.
The Royal Warrant might be one of the company's highest accolades but it will have to be its most discreet. The manufacturer can acknowledge the warrant only with the 'By appointment ...' sign on the label and is not allowed to use it for anything as vulgar as advertising. The warrant is earned by supplying the royals for at least five years and all 800 of the current holders will have passed a series of checks on their environmental credentials and the conditions enjoyed by their work force.
Paul McIlhenny, the latest in the dynasty, lives on Avery Island like his predecessors and is very much in their mould. He is an enthusiastic fisherman and 'wing shooter' – a wild bird hunter.
"My bit for conservation," he jokes.
He is clearly a man who knows his food – no stranger to the best restaurants in New Orleans - and has a reputation for being an accomplished cook. He has introduced new varieties such as a jalapeno-based green sauce, a chipotle smoked version, sweet and spicy and garlic.
But it's the original that captures the imagination and, no doubt, challenges the royal taste buds – maybe because it has stayed true to Grand pere's recipe.
As Jeremy Lee, the exuberant head chef of the Blueprint Cafe, London, says: "I can't imagine a kitchen without Tabasco. You can make something out of nothing with just a few drops. It's like the magic elixir of life.
"And how could you have a Bloody Mary without it?"
Richard Holledge is writing a book on the expulsion of the Cajuns
Recipes
Classic Bloody Mary
1 quart tomato juice
1 cup vodka
1 tablespoon Worcestershire sauce
1 tablespoon fresh lime juice
Half teaspoon Tabasco original
Lime slices or celery stalks
Combine tomato juice, vodka, Worcestershire sauce, lime juice, and Tabasco in a two-quart pitcher; stir well. Serve over ice. Garnish with lime or celery.
Serves six.
Bordertown Burgers with Spicy Onions
1 tablespoon vegetable oil
1 large sweet onion, halved and thinly sliced
4 tablespoons Tabasco Chipotle sauce
1 tablespoon Worcestershire sauce
1 1/2 pounds lean ground beef
1/4 cup chopped fresh coriander
1/4 cup chopped green onion
1 teaspoon salt
4 slices Monterey Jack cheese (semi hard cow's milk cheese)
4 hamburger buns, toasted
Mixed baby greens
Heat oil in a large frying pan over medium-high heat; add onion and cook 5 minutes or until golden brown, stirring often. Stir in 1 tablespoon Chipotle Sauce and the Worcestershire sauce; mix well and remove from heat.
Combine ground beef, coriander, green onion, salt and the remaining 3 tablespoons of Tabasco; mix well and shape into 4 burgers. Grill over medium-high heat - about 3 minutes per side for medium-rare. Top each burger with a slice of cheese and grill just until melted. Place on buns and top with spicy onions and baby greens.
Makes 4 servings.
Eula Mae Doré's Potato Salad
2 pounds medium-size red potatoes, peeled and cut into quarters
11/2 teaspoons salt, divided
6 hard-cooked eggs
Quarter cup vegetable oil
Half teaspoon white vinegar
3/4 cup mayonnaise
1 teaspoon original Tabasco
1 sweet pickle, finely chopped
1 stalk celery, chopped
Half green sweet pepper, chopped
Fill a 3- quart saucepan two-thirds full of cold water and bring to a boil. Add potatoes and 1 teaspoon of the salt. Cook over medium heat about 15 minutes or until tender; drain.
Peel eggs and separate yolks and whites; chop whites and set aside. Mash yolks in a large bowl and stir in oil and vinegar. Add mayonnaise, Tabasco and remaining half teaspoon salt.
Dice potatoes and add to mayonnaise mixture along with pickle, celery, bell pepper and egg whites. Mix well and refrigerate until 15 minutes before serving.
Makes 8 servings.
Fire and Ice Cream
Half cup milk
1 (2-inch) cinnamon stick
1 strip orange peel (from 1 small orange)
4 whole cloves
2 teaspoons vanilla extract
1 (14-ounce) can sweetened condensed milk
1 ½ teaspoons original Tabasco
2 cups full cream, whipped
Cinnamon sticks and orange peel twists for garnish (optional)
Combine milk, cinnamon stick, orange peel and cloves in a small saucepan over medium heat and bring to a boil. Reduce heat to low, cover, and simmer 5 minutes to blend flavours. Set aside to cool to room temperature; strain.
Combine milk mixture, vanilla, condensed milk and Tabasco in a large bowl and mix well; gently fold in whipped cream. Cover and freeze until firm, stirring once.
To serve, scoop ice cream into glasses or dessert dishes. Garnish with cinnamon sticks and orange peel twists, if desired.
Makes 6 servings.
… and a classic: Shrimp and Sausage Jambalaya
2 tablespoons vegetable oil
Half pound smoked sausage, cut into half inch slices
1/2 cup sliced celery
1 small onion, chopped
1 small red or green bell pepper, chopped
1 clove garlic, minced
1 3/4 cups chicken broth
1 cup diced fresh or canned tomatoes
1 bay leaf
1 teaspoon original Tabasco
1/4 teaspoon dried oregano leaves
1/4 teaspoon dried thyme leaves
1/8 teaspoon ground mixed spice
3/4 cup uncooked rice
1/2 pound shrimp, peeled and cut in half lengthwise
Heat oil in a large heavy saucepan or Dutch oven over medium-high heat. Add sausage, celery, onion, bell pepper, and garlic. Cook 5 minutes or until vegetables are tender, stirring frequently.
Stir in broth, tomatoes, bay leaf, Tabasco, oregano, thyme, and mixed spice. Bring to a boil, reduce heat, and simmer uncovered for 10 minutes, stirring occasionally. Stir in rice; cover and simmer 15 minutes. Add shrimp; cover and simmer 5 minutes longer or until rice is tender and shrimp turn pink. Let stand, covered, 10 minutes. Remove bay leaf before serving.
Makes 4 servings.
Party time on Avery Island
The complete set